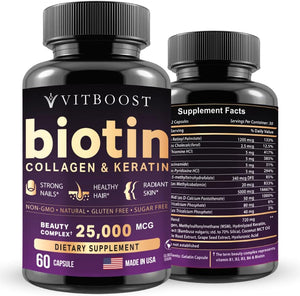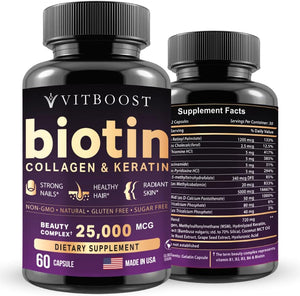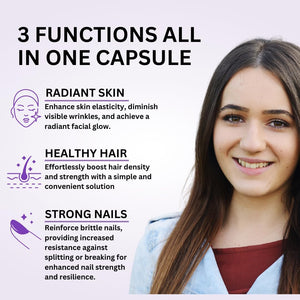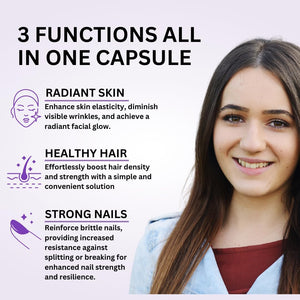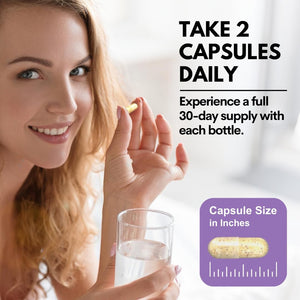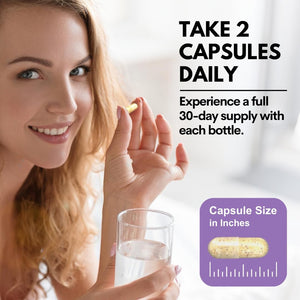 On Sale
Biotin with Hyaluronic Acid, Collagen and Keratin – 25000 mcg Hair Growth Vitamins for Men and Women – Nails and Skin, USA Made, B1, B2, B3, B6, B7 Complex - 60 Capsules
Biotin Collagen & Keratin Supplement - An essential blend of biotin vitamins, collagen, and keratin. Our biotin for women and men works to nourish your hair, skin, and nails to diminish signs of aging by fortifying your body with essential anioxidants.

Thicker, Fuller, Healthier Hair, Stronger Nails & Softer Skin – Taken regularly, biotin with Hyaluronic acid can also help strengthen hair at the root which improves strength, reduces breakage and split ends, and leaves it feeling softer and looking more vibrant for beauty you can see and feel. It also strengthens nails and helps improve skin elasticity and firmness for radiance you won't miss.

The Power of Collagen, Keratin & Biotin Complex - Our carefully formulated hair vitamins for thicker hair growth and overall beauty enhancement are crafted to nourish your body from within. Prepare to be amazed by the transformative effects of our biotin supplements, as they stimulate healthy hair growth, enhance skin elasticity, and fortify your nails. Embrace the radiance that comes from nurturing your hair, skin, and nails with Vitboost's exceptional care and dedication.

True Purity and Effectiveness – Vitboost premium biotin complex is non-GMO, sugar free, gluten free, and made with premium ingredients, which is important for maintaining a consistent vitamin or multivitamin regimen while sticking to your dietary efforts.

Quality Assured - At Vitboost, quality is our main priority. That's why our biotin vitamins are made in the USA with only safe and tested ingredients that meet the most rigorous standards. Our supplements are cruelty-free and do not contain any fillers, preservatives or artificial ingredients.